Camping in the Lot by the river
You will appreciate the idyllic location of our Lot campsite. Indeed, the banks of the Dordogne are in the immediate vicinity of the pitches and of all the amenities. So you can make the most of your holiday with friends or family in the Lot.
The proximity of the water and the river makes the campsite ideally situated for all kinds of water activities such as canoeing on the Dordogne. You can come and discover our camping sans car-home when arriving by canoe.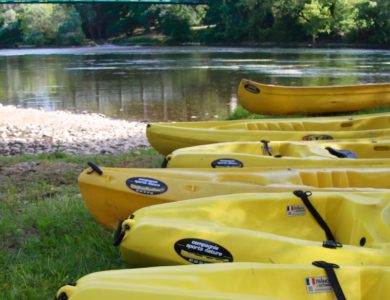 Why choose our riverside campsite?
The advantages of being close to the Dordogne
Activities
canoe/kayak type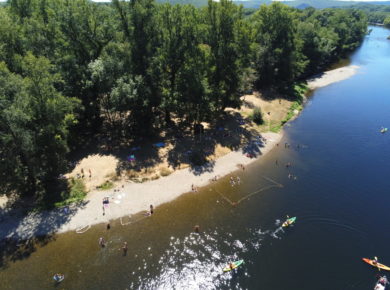 Swimming in the Dordogne
The Dordogne River has been classified as a World Biosphere Reserve by UNESCO since 2012. You will live on the water's edge and become one with nature. Your children will enjoy the river for a splash, a ricochet or just to dip their feet to cool off.
For a lazy holiday, the meandering Dordogne creates small beaches and creeks, ideal for putting down your towel and parasol to enjoy the southern sun! You will discover the joys of swimming in the river and will be able to access the nearby leisure centre, where swimming is supervised.
River fishing in the Dordogne
During your holiday in the Lot, you will experience a complete change of scenery. Indeed, the environment of the campsite and the banks of the river are a real haven of peace for holidaymakers.
Fishing enthusiasts, the meandering Dordogne River is the perfect place to set up your rod and tackle the fish. You will be amazed by the beauty of the riverbanks and those with a fishing licence will be able to indulge their passion in a magnificent setting. The Dordogne River is classified as a "salmon river" and a "trout river" and is full of trout and gudgeon as well as roach and pike in the calm areas.
Take advantage of your holiday in the Lot to try your hand at fly fishing!